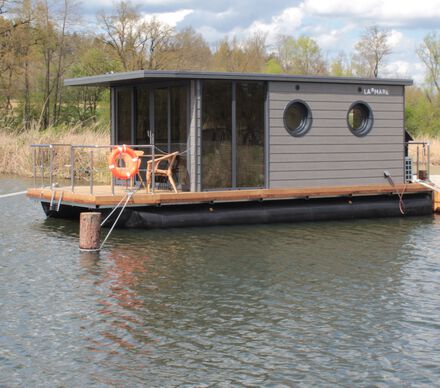 Houseboat - Holiday at the Teichquartier
If you are looking for an unusual place - a so-called "secret place" - you have to come to our place. The Teichquartier stands for a new living experience and the feeling of having everything in a small space, living in the middle of nature, being very close to water and wildlife, embedded in a farm that is rarely found anymore - a carp farm, located in the south-east of Austria.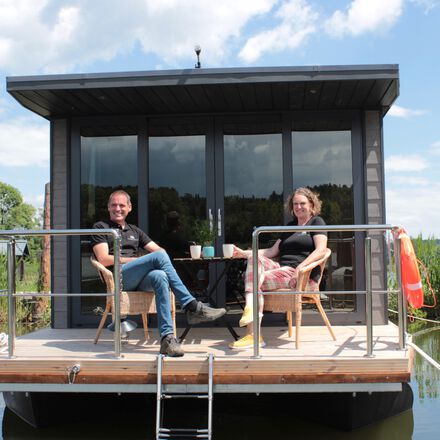 You can't get any closer to the water!
When the weather is nice, our small terrace invites you to sit down. Anyone who has been visited here by a kingfisher at breakfast, has fed a swan from hand or has watched the delicate, turquoise dragonflies doing their nuptial dance, will remember it forever. And very brave swimmers can jump into the pond directly from the boat.
Cook, eat and chill out
Our "blue saloon" has everything you need to live. The "galley" is equipped with a two-plate cooker, refrigerator and coffee machine. As on any real boat, the dishes have to be washed by hand. A kitchen island combines worktop and dining area. On the other side, a recliner that can be pulled out as a single bed and a reading chair invite you to linger. Three large panoramic windows offer a good all-round view of all the animals moving around on and in the water.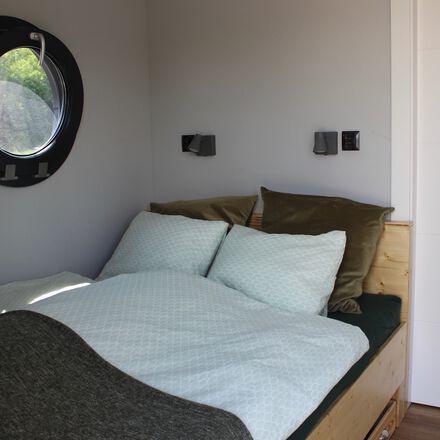 Off to the bunk
The cosy bed for two invites you to sleep and dream. You lie comfortably on a thick, 1.40 metre wide latex mattress. There are drawers under the bed where you can store all kinds of things. A wardrobe completes this small bedroom. In the early summer months, a frog concert lulls you to sleep. Here you feel like a swan chick in its warm nest.
free availabilities and prices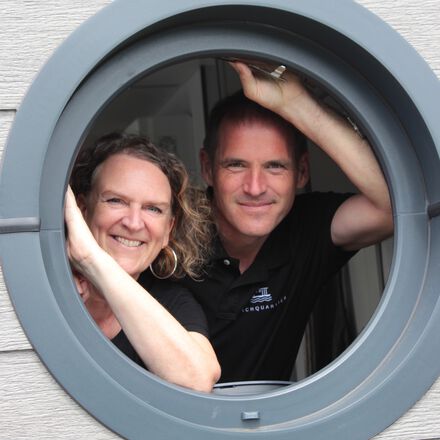 Your hosts
Just this much about us: Hubertus is a fish farmer with passion. Michaela is a coach and counsellor with heart and soul. It is best to ask us about our personal life story when you are our guests. We want to share the wonderful pond landscape with other people and create memories. The Teichquartier can be a place where people can come to rest and feel the heartbeat - their own and that of nature. Anyone who wants to be close to nature and can recognise happiness in small things is in exactly the right place with us and is very welcome. The time with us should be an incentive to come into balance and to stay in balance - for our guests as well as for us.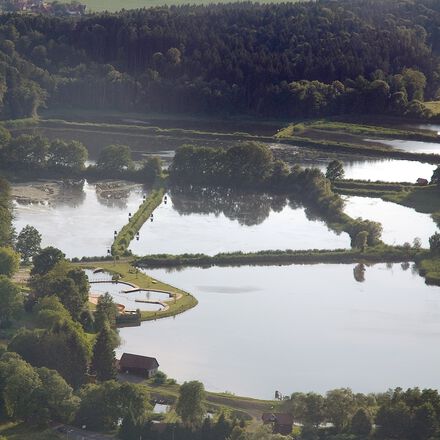 All carp or what?
For more than 50 years, carps have been farmed here. According to the latest research, fish have probably been kept in this very landscape since around 1000 to 800 years before the birth of Christ. The unique thing about this area is that it is still a successful business and yet the natural landscape is almost untouched - with more than 80 species of birds. This paradise is at your disposal during your stay.
Location
Feel the heartbeat - of you and of nature!
Nature lovers will feel completely at home here. Walks around the entire landscape of lakes invite you to immerse yourself into the world of all the animals living near the water. Hubertus is at your disposal with all his knowledge - he will gladly take time for a guided tour. But there is also plenty to see while staying in the houseboat: Ducks, swans or the kingfisher come to visit and hundreds of water frogs sing you to sleep. If you are looking for time out, want to find inner peace and enjoy the simple things, you will feel completely at home in the Teichquartier.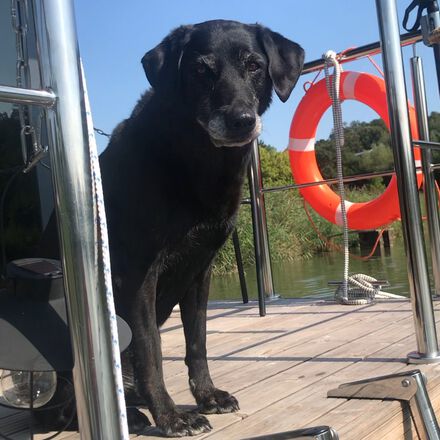 Dogs are welcome!
Without question: dogs enrich our lives! If you love to have your best buddies with you on vacation, you are welcome to take them with you. The landscape of the lakes invites you to go for a walk and offers dogs a vast territory with a thousand exciting impressions - a true paradise for dogs! So that this landscape doesn't become a "hunting ground" and can also remain a paradise for all other living creatures, it is our concern to pay attention to a balance here and to behave considerately even with a dog. Our service for dogs includes bowls, dog towel, outdoor shower and other little things.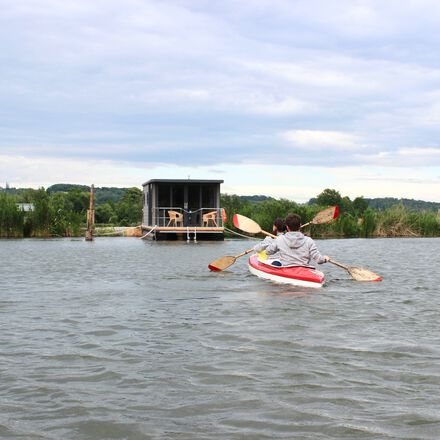 Active and walking?
If you want to get even closer to the water, you can go for a canoe ride. And if you need even more exercise, you can grab one of our bikes and explore the area. A circular hiking trail with a total length of approx. 12 km begins a few metres from the houseboat. And our Kirchberg Seerosenbaad invites you to swim - free of charge for Teichquartier guests, of course. Our tip: if you do your laps early in the morning, you usually have the beautiful water areas all to yourself!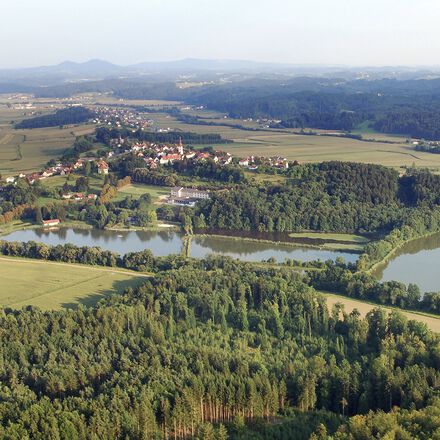 What else is there to see:
Kirchberg, the village on the edge of which our houseboat is located, is a lively place that has a lot to offer to guests: several good restaurants, cafes, supermarkets, hairdressers, sports, wellness and much more. Styria has developed into a real jewel with many great excursion destinations in the last decades. Here you can practice a wide variety of sports, experience cultural highlights, indulge in culinary delights, visit interesting production facilities, explore Graz or go on impressive nature hikes.